With the Capacity forecast dashboard, you can forecast current and future capacity requirements for your workspace and team. You can see the estimated planned work, and compare that to your team's availability.
Example: To see how many hours of animation you have estimated in your planning for the coming weeks, compared to the number of animators available.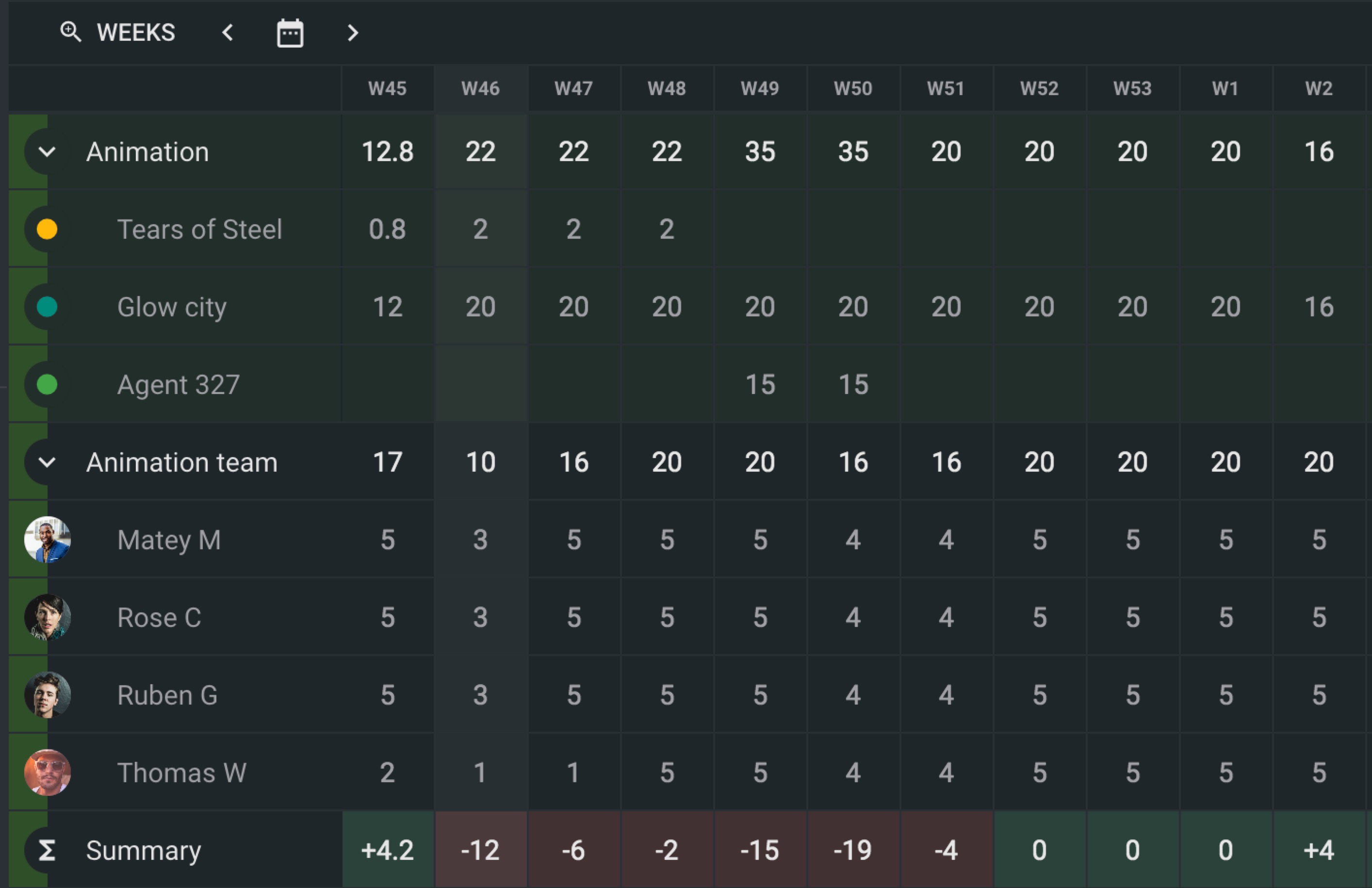 With this information, you can get a hint on if you need to ramp up with freelancers, understand the possibility of taking on more work, and spot spikes in your production.
Creating a Capacity forecast dashboard
1. To create a Capacity forecast, navigate to the Overview page of your site.
2. Click the + Create dashboard button on the dashboard menu, opening Create dashboards window.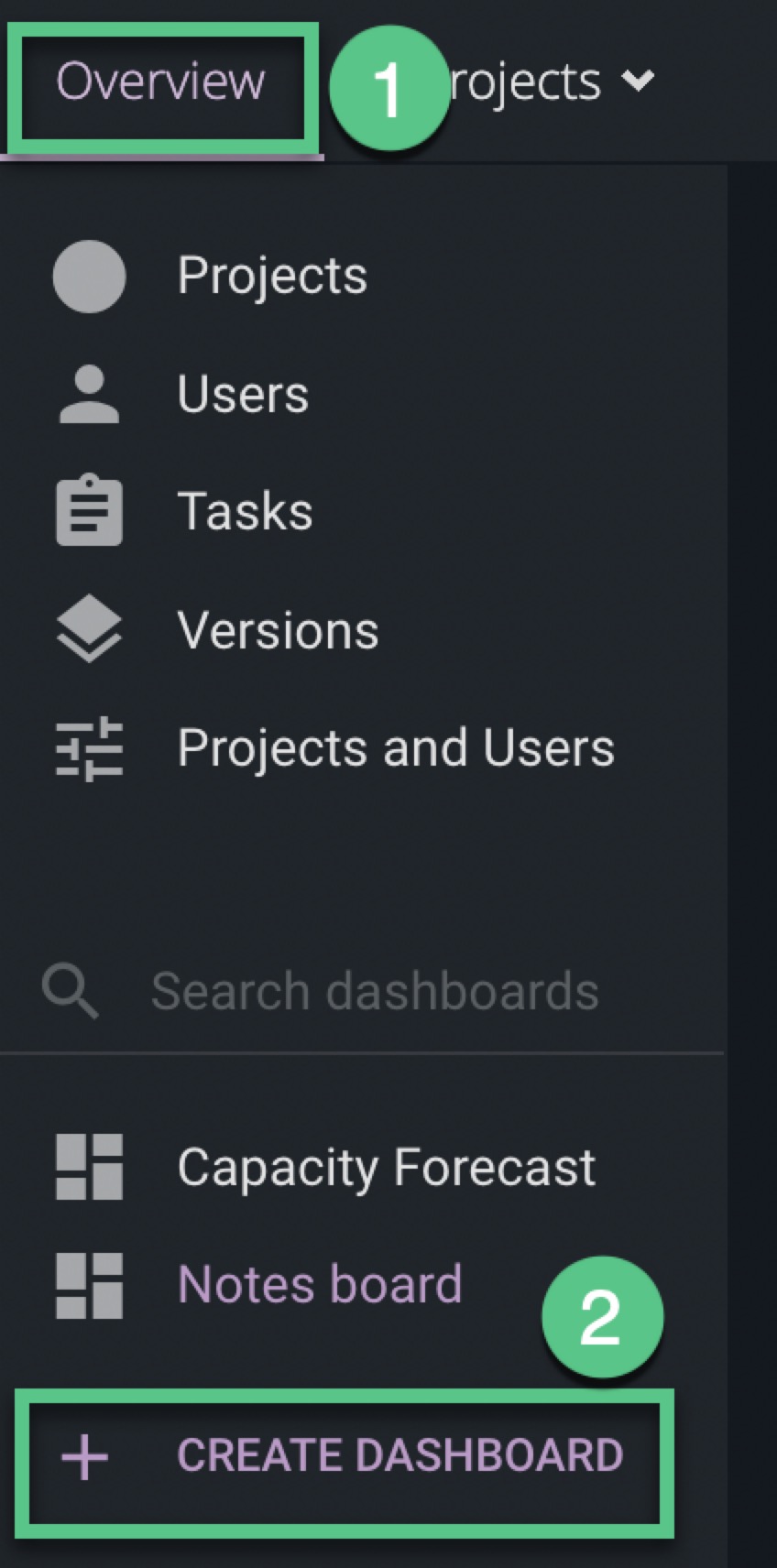 3. Select the Capacity forecast option.
4. Type in a Name.
5. Save the setting.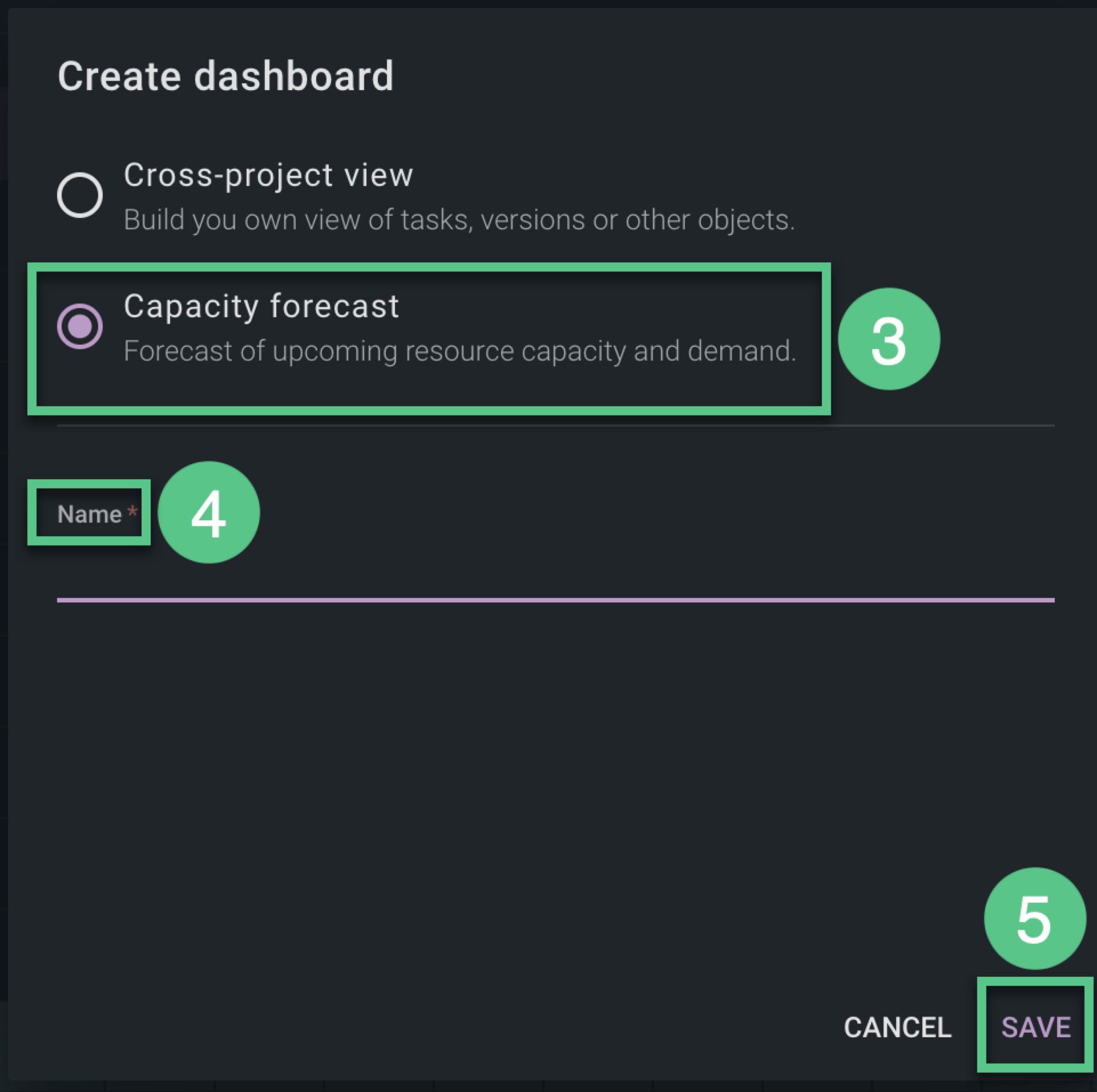 Once saved, the new Capacity forecast will be added and appear in your dashboard menu, where you can open it with a single click.
How the Capacity forecast works
The forecast report will summarise your estimated work by type and present it by day or week. The summary is based on events planned on your projects and the Estimate that you have set on those events.
An estimate of 20 person-days of Animation over two weeks will be presented as 10 person-days per week or 2 person-days á day (given a 5-day workweek).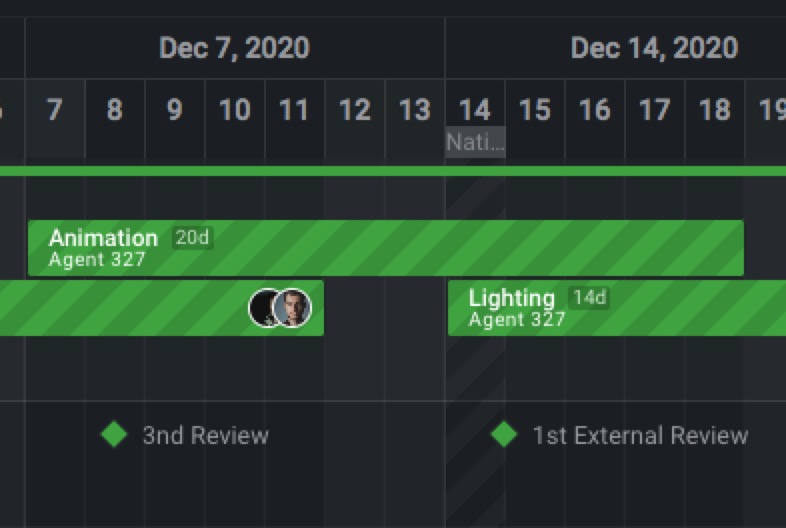 The estimated work can be compared to your team's availability. The availability is based on group memberships. An "Animators" group with 10 members will have the ability to do 10 person-days á day of animation work, or 50 person-days a week. Any leave planned for a user will be subtracted from their availability.
How to work in ftrack to use the forecast report
As we learned, the forecast report is based on Events with type and estimates, and Group memberships. To use the forecast report to its full potential, we must therefore plan upcoming projects using Type and Estimates and have Groups configured to support it.
Planning your upcoming projects
When planning your upcoming projects, make sure to add them to ftrack using events. Add events in the Projects schedule with start and end date, set the type of work that you will do and the estimated person-days it will take to complete it.
Example: create an animation event spanning over two full work weeks. Give it the type Animation, enable Forecast and add an estimate of 40 person-days.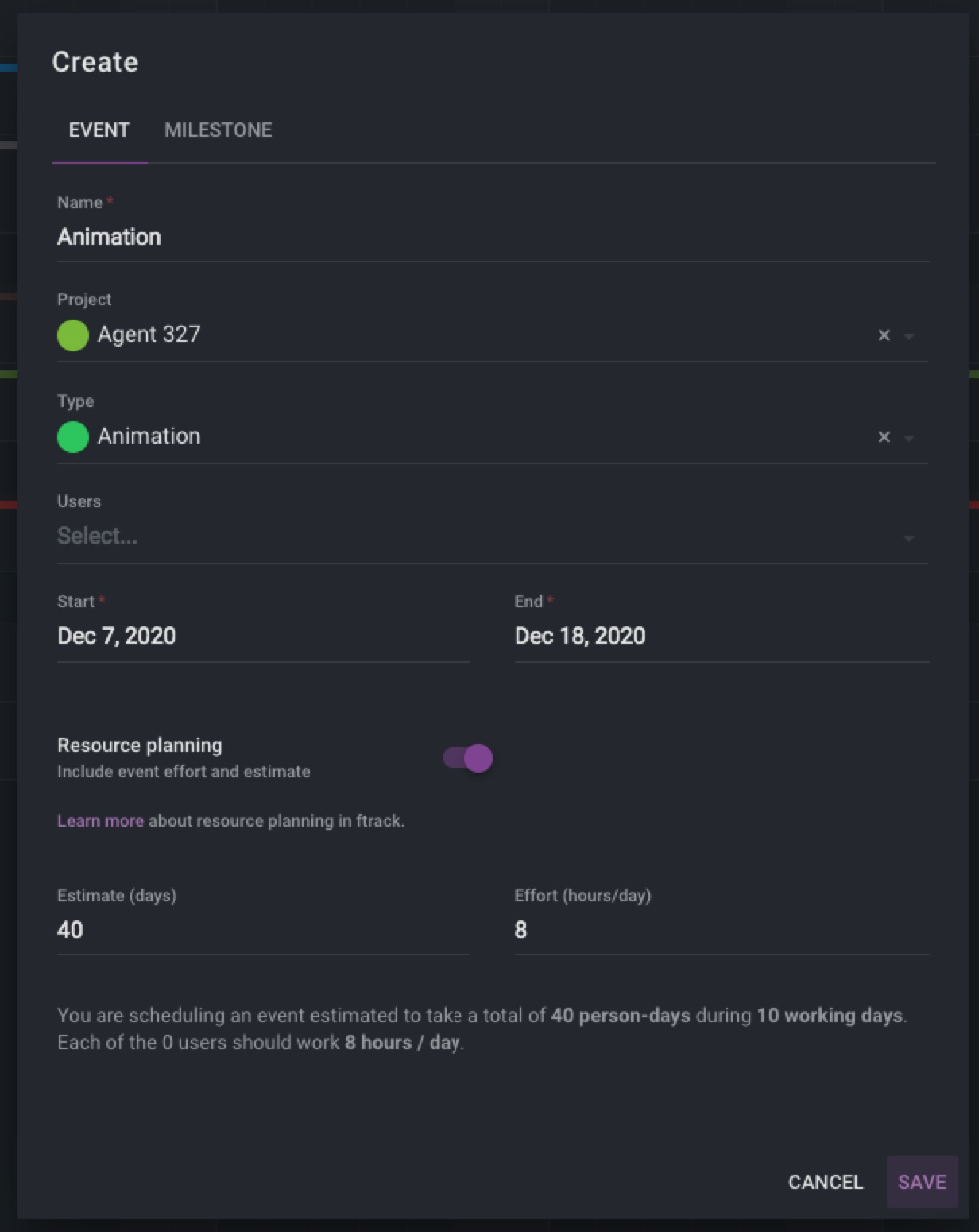 Repeat this process for all the work that you plan to do on the project. This will be a rough work plan that you can communicate with the team, and the basis for your forecast report.
Arranging your team into useful groups
In System Settings, it is possible to create groups for your ftrack users. Create groups that are based on skills or departments and add your members to them. It is important that a user is only a member of one of these groups - if not, you risk counting their availability multiple times.
Example: Create an Animators group and add members to it.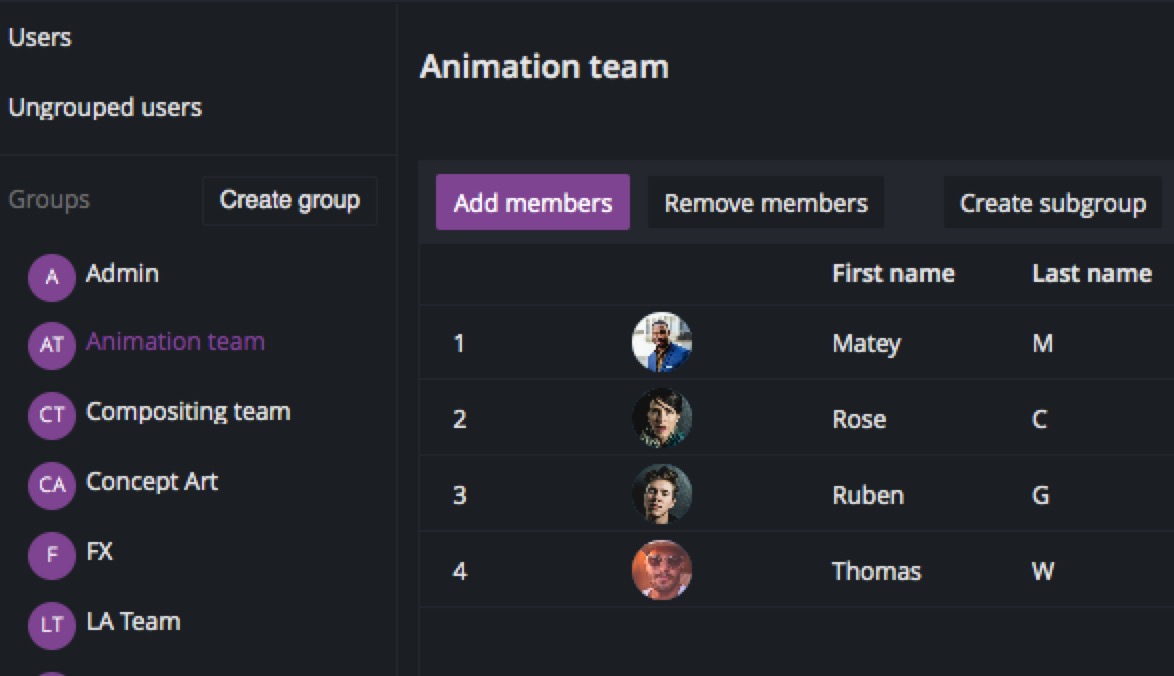 Setting up your forecast dashboard
After creating the dashboard, you will see a table with all Types that you have in ftrack. If you have already added estimates to your calendar events, they will now be visible.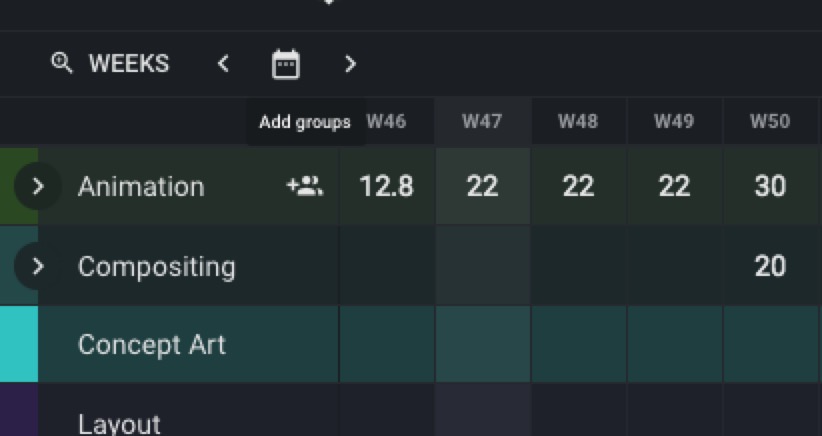 From a Type, you are able to select what groups to compare it with, and you can decide if you want to see the summary or not.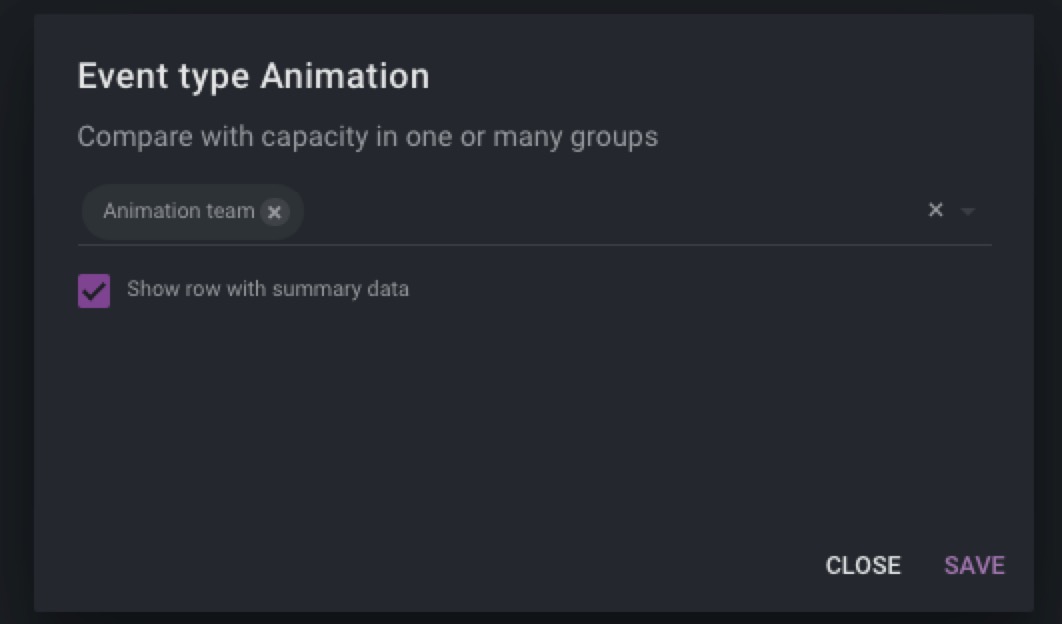 Exporting to CSV
From the upper-right corner, it is possible to export the forecast data to CSV for further processing outside of ftrack.