In addition to custom-built dashboards, ftrack comes with a few built-in ones where the My Tasks dashboard/page is the home dashboard for every user.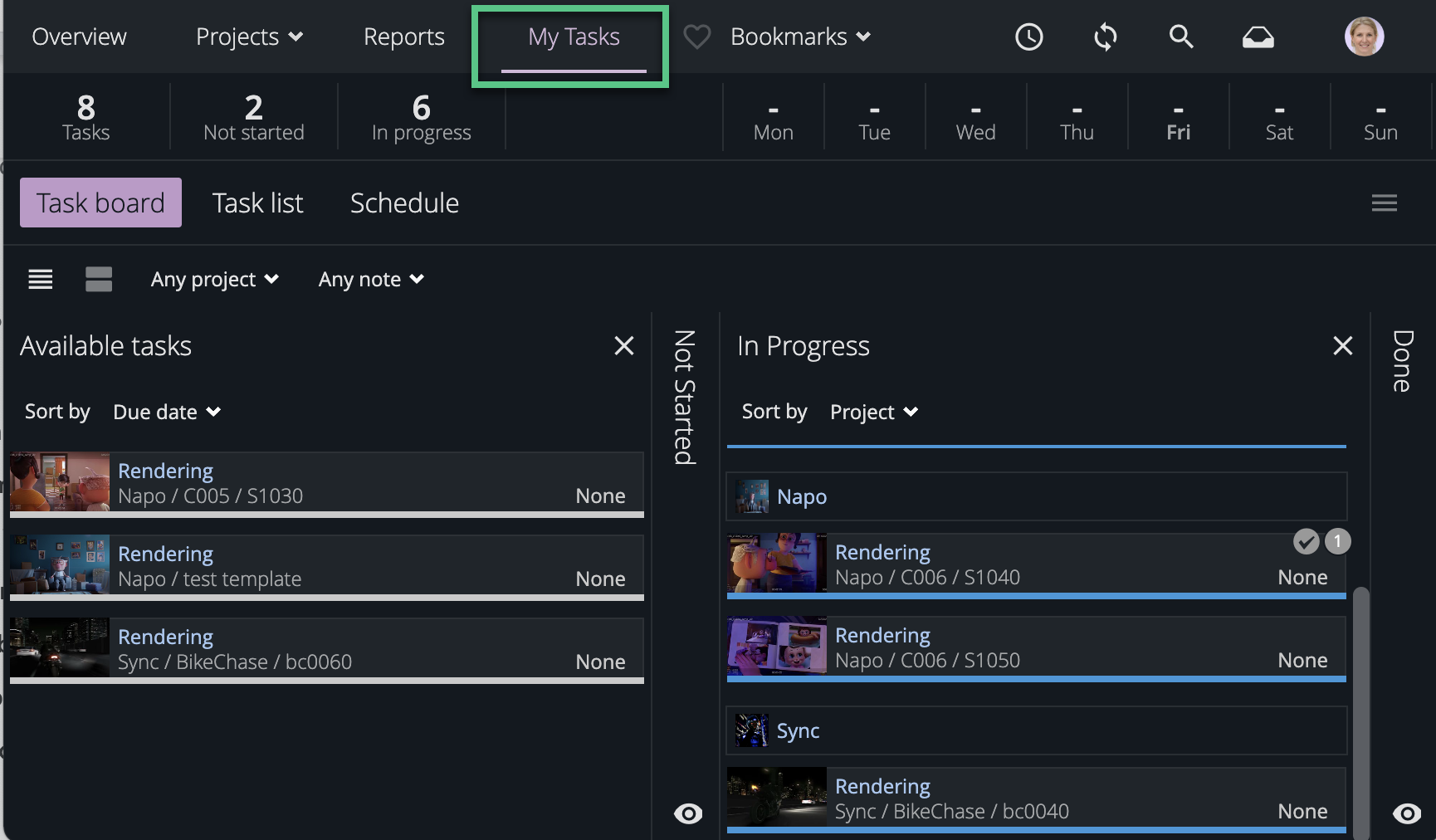 Compared to other dashboards, the My Tasks is focused on the currently logged-in user.
It consists of a few widgets showing the most important information and actions and is divided into different columns.
The left column is task-oriented, with a summary of all assigned tasks' statuses at the top and the kanban-style task board below.
The column to the right consists of, from the top:
a widget showing logged time in the current week
a widget listing upcoming important dates on projects the user is assigned to
a widget showing the latest activity that in some way is related to or affects the user.
How to navigate in the My Tasks dashboard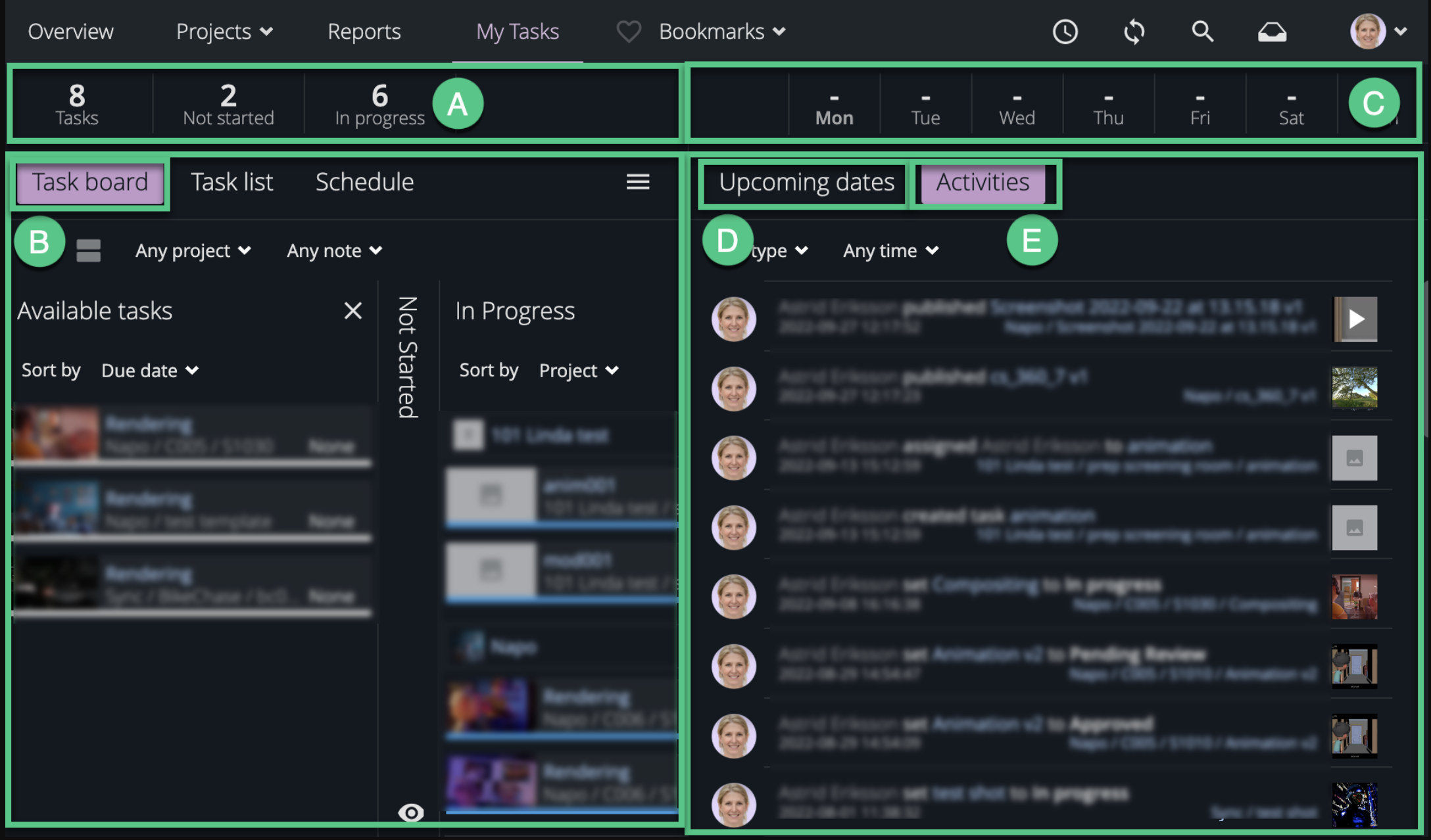 A. Task summary - This widget is your assigned task status summary.
B. Task board - Enables a quick and easy way to change the status of tasks by dragging and dropping to the next status (Tasks also available in Task list and Schedule view).
C. Weekly time logged - This widget summarizes the time logged in your week.
D. Upcoming dates - This widget lists important dates upcoming. If you can't see this panel, click the

menu on the right, below your weekly time.
E. Activities - This widget shows the activity feed for everything related to the logged-in user and their tasks.
Viewing your schedule
To access your schedule, go to My Tasks and click on the Schedule tab. This tab will display all the events and tasks you are scheduled for.
With the improved My Tasks Scheduler navigation, you get a clear and comprehensive view of your schedule. The calendar and task visualization show start dates, end dates, and durations for each event and task.
How to navigate in the My Tasks Scheduler view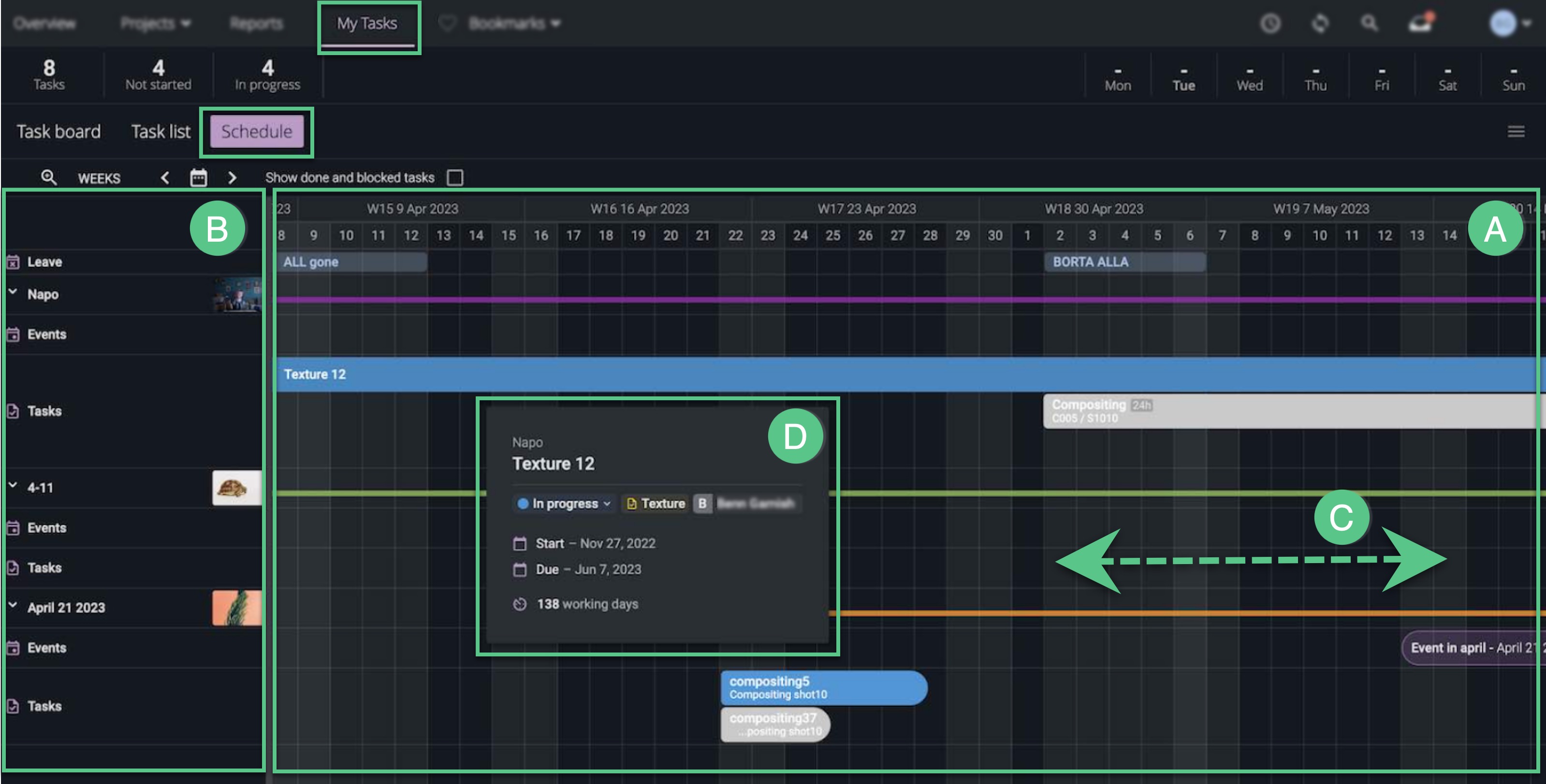 A. Calendar View - This view allows you to track all your tasks quickly and easily.
B. Assignments - This widget displays all the tasks assigned to you.
C. Infinite Scrolling - You can scroll left or right in your calendar to get a full overview of all your tasks. This feature makes it convenient to explore your schedule thoroughly.
D. Redesigned Tooltip - This widget provides specific information about the selected task, including its status, start dates, end dates, and durations. To access the tooltip, simply hover over the task you want to know more about. It gives you a detailed insight into the task's details and scheduling information.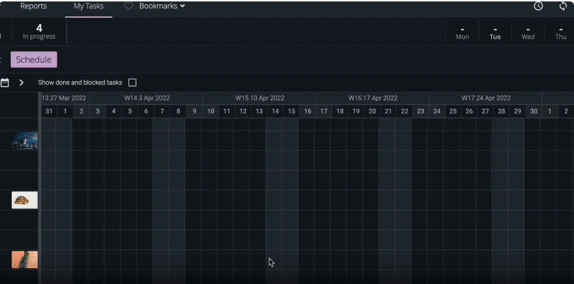 Image: My Tasks Scheduler in action