If there are multiple tasks of the same type they will appear as an extra row.
For instance, if you would like to see bids for specific types of tasks at the shot level, you can add the Bid days column (or Bid hours column, depending on your configuration) from the Task Columns menu for the desired task types.

If you have many columns of a certain task type, it is possible to expand or collapse them. This is a good way to switch between a compact and a detailed way of looking at your tasks.
Tip: To improve clarity, the task type columns will use the task type colors set in System settings > Workflow > Types for the background color.
In addition, all values in the Task Columns, except the task type, are directly editable in the spreadsheet by double-clicking the cell you would like to change.
Adding Task Columns
You can add Task Columns from the Task Spreadsheet .
Go to Settings > Attributes > Task columns and choose the column(s) you wish to add.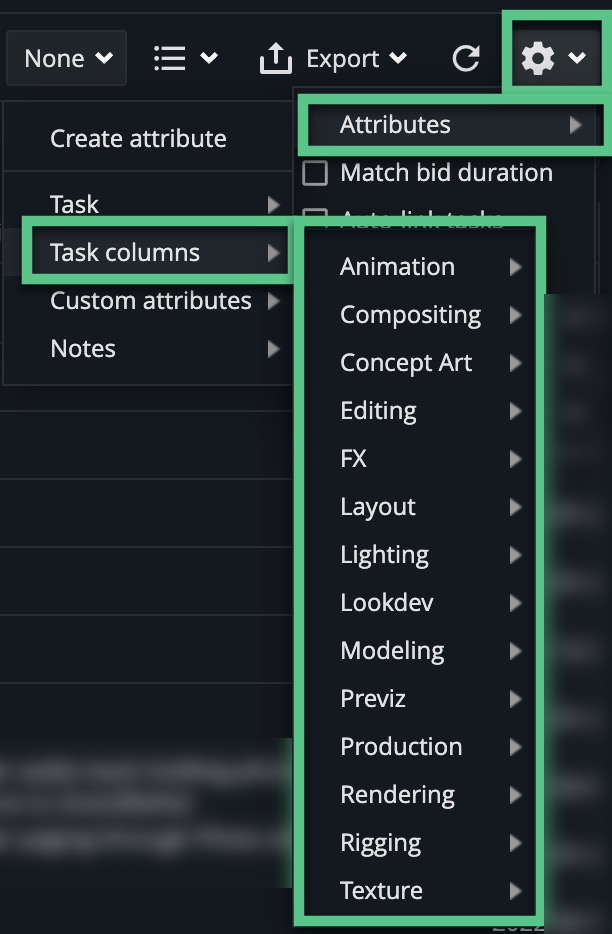 Compact Task Columns
If you prefer to look at the task columns with only one row, it is possible to enable "Compact task columns" from Cog icon > Row height > Compact task columns.
Compact task columns will display the task with the "lowest" status as it is ordered from System settings > Workflow > Statuses (e.g. In progress over Approved). If there are multiple tasks with the same status, the task is picked based on the name order (e.g. Animation over Lighting).
Tip: This setting also works for exporting data.