There are three main places to access, track, and manage versions within ftrack Studio:
Versions Page
Versions Overview
Sidebar
Versions Page
The Versions Page gives you project level access to all versions uploaded or published to that specific project. It can be found by entering a project and clicking on Versions within the dashboard menu.
You can choose between a Spreadsheet layout and a Thumbnail (Thumb) layout depending on how you'd like to view the data.
Spreadsheet layout - displays a horizontal line entry for each version, with versions listed down the left and the attribute columns listed along the top, like a spreadsheet.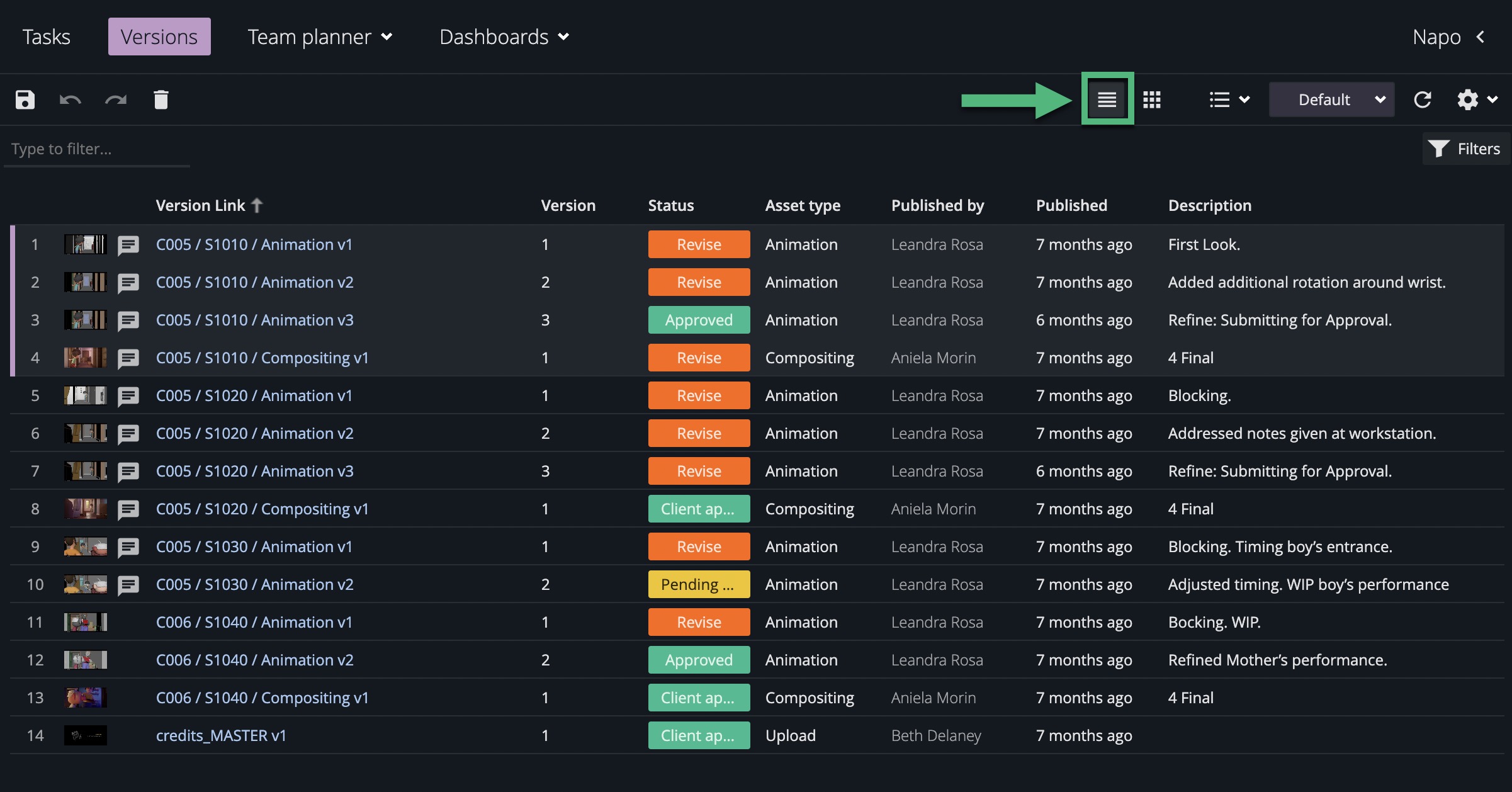 Thumb layout - displays a card for each version with a larger visual thumbnail for the playable version. The attributes are listed below the thumbnail.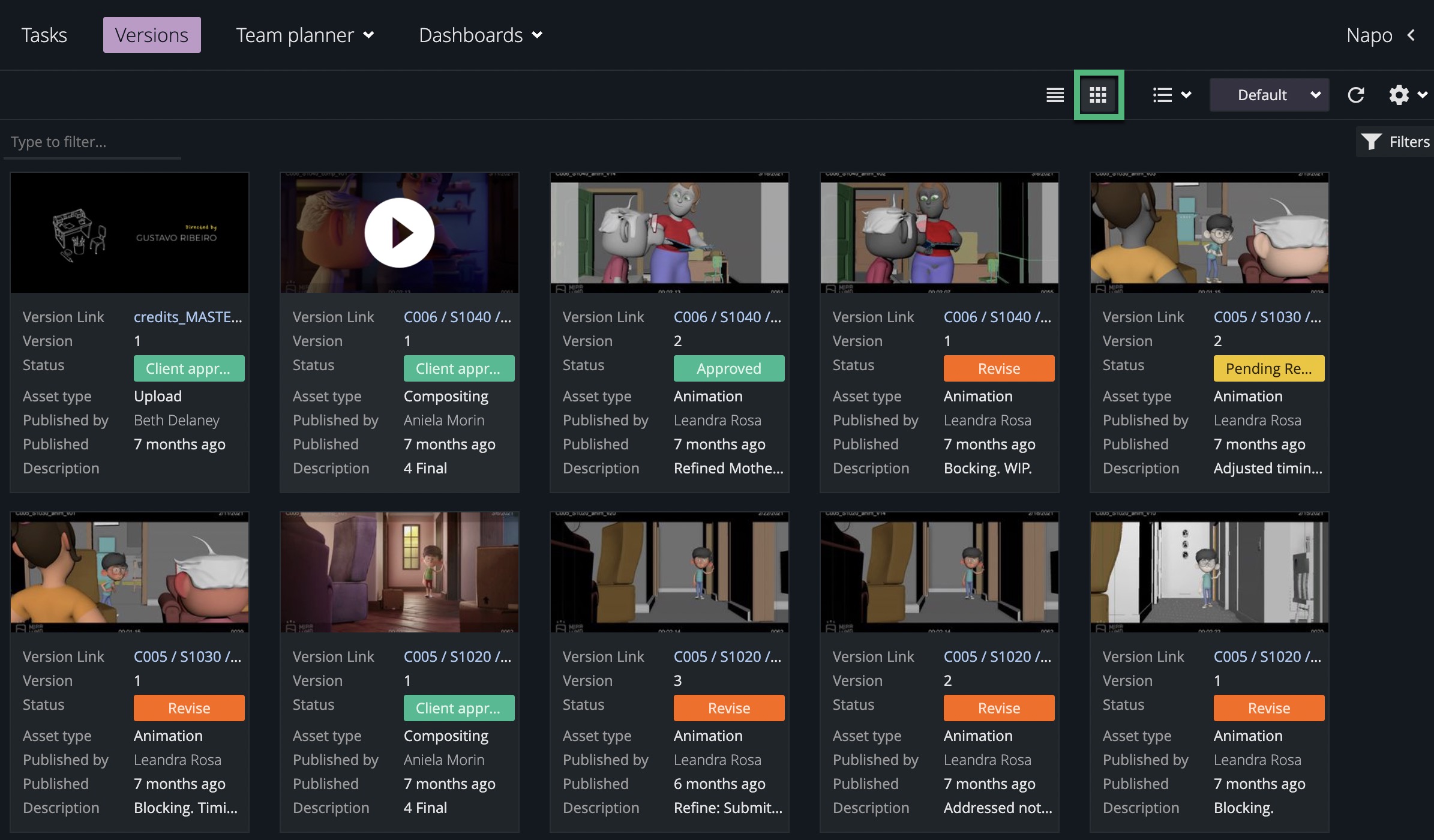 Tip: If you've navigated to a subset of versions by clicking on a List, you can reset the view to all Versions by clicking the project name in the top-left Project Navigation menu.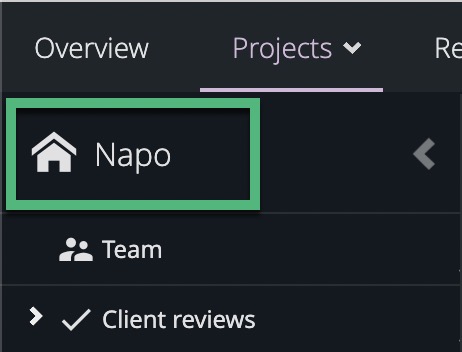 Customization
Filters, sorting (accessible in the gear menu), and adding or removing attributes can help you to create custom views that suit your workflow. Any custom views can be saved for easy access when needed.
Any changes you make with filters, sorting, or attributes will show on both the Spreadsheet and Thumb layout of any selected view.
Edit a Version
Most default attributes on a version are not editable after the version has been created to maintain the integrity of important publishing, asset and filename data.
Custom attributes may be created on the version if you have any other details that would be useful to track for your workflow. The Versions Page will give you the best access to edit the data within those attributes once they are added.
The version Status is one of the attributes that can easily be updated from this view to help you track the approval process of your task output.

Remove a Version
1. Any version can be removed (deleted) by selecting one or many versions using 'SHIFT + click' or 'CMD/CTRL + click' and then clicking on the Trash icon in the upper left toolbar.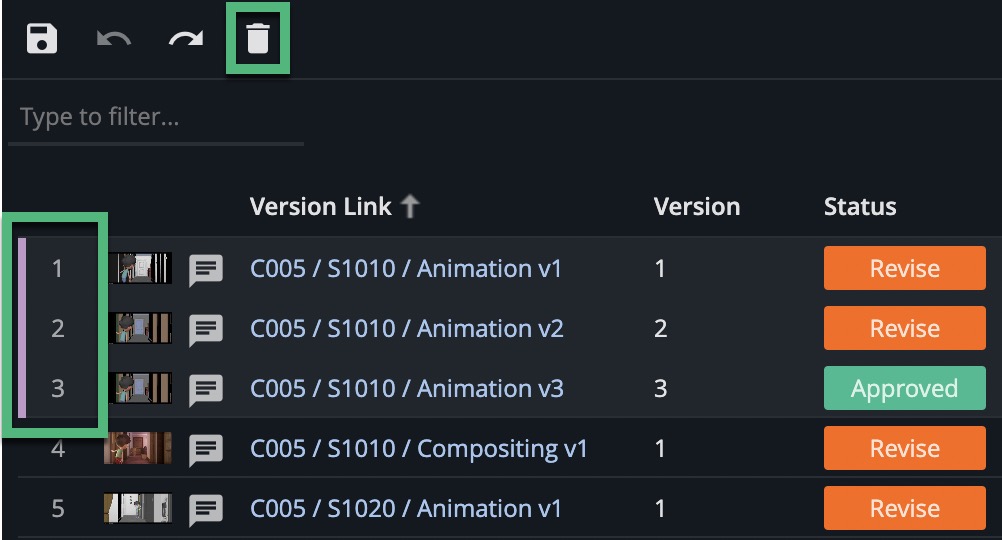 2. The selection will be highlighted in red. To confirm the removal, click the Save icon.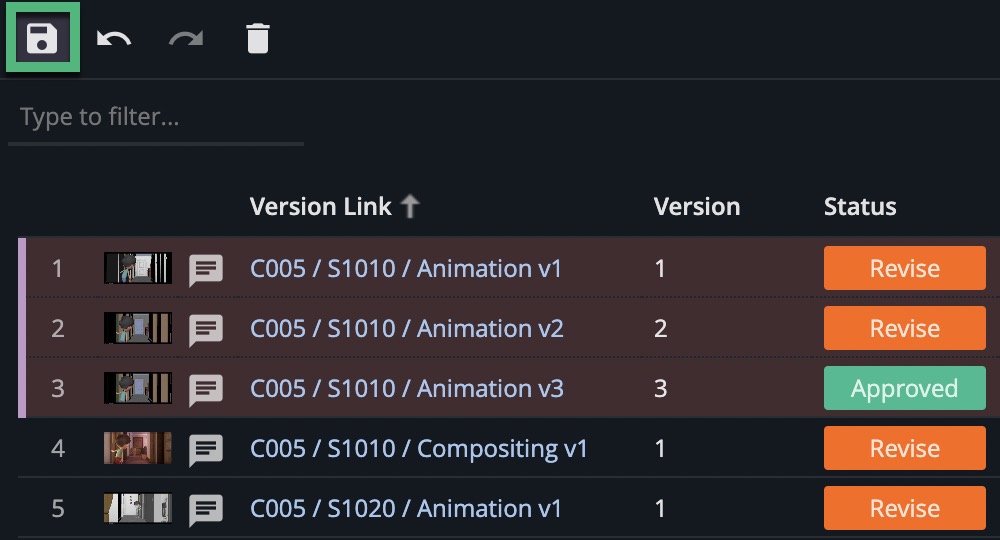 3. Type DELETE in the suggested field, then click Yes, permanently delete selected items button.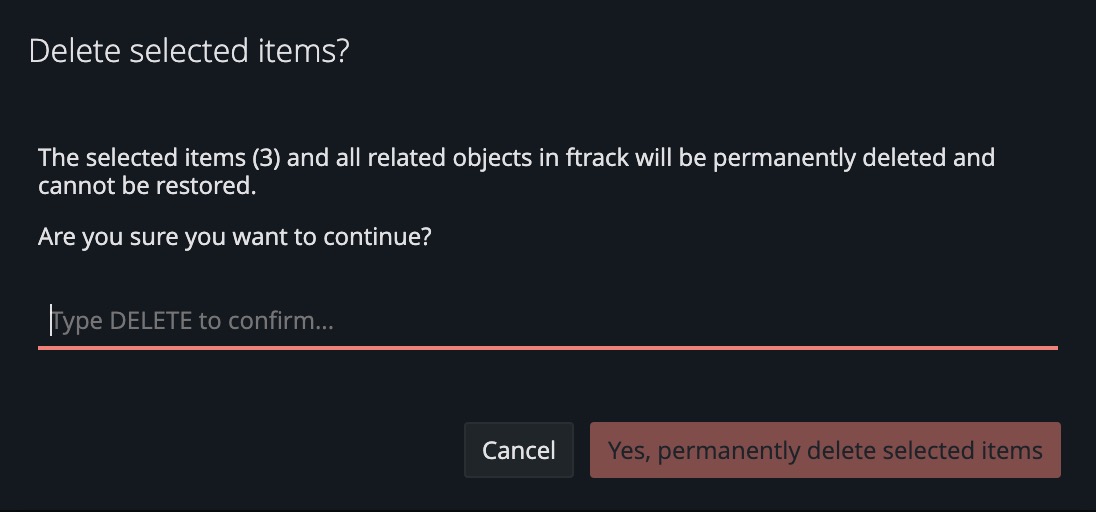 Warning: Deleting a version is a permanent action and cannot be undone or recovered.
Playback and Review Options
The Versions Page gives you the most options when it comes to playback and review. This is where you create lists and reviews. This concept will be detailed further in later articles of this section.
Click on a version thumbnail image in either Spreadsheet or Thumbnail layout to play that version in your preferred player.
When you select one or many versions, you can right-click on the selection to either add-to or create a list, play immediately, or add-to or create a [Client] Review. As an advanced option, custom version Actions can be configured and then accessed from this menu.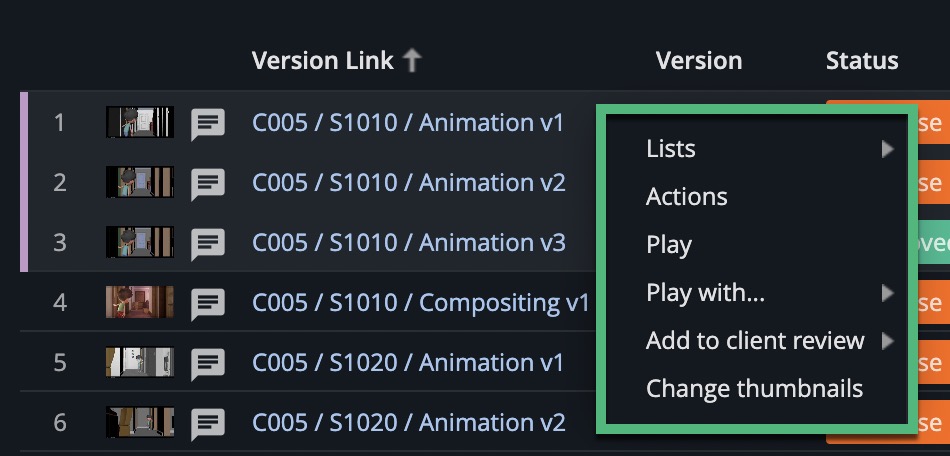 Alternatively, you can access the List options menu at the top right of the toolbar.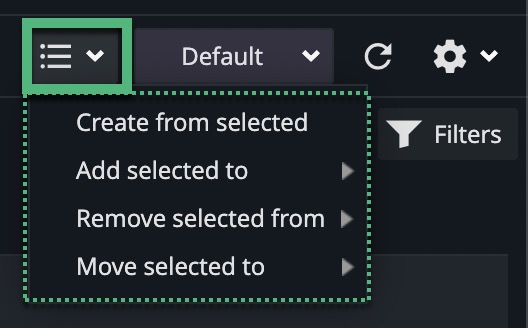 Versions Overview
The Versions Overview is a global dashboard view of versions across all projects. It allows you to quickly see the versions being produced and the approval status of each, in either a list or card layout.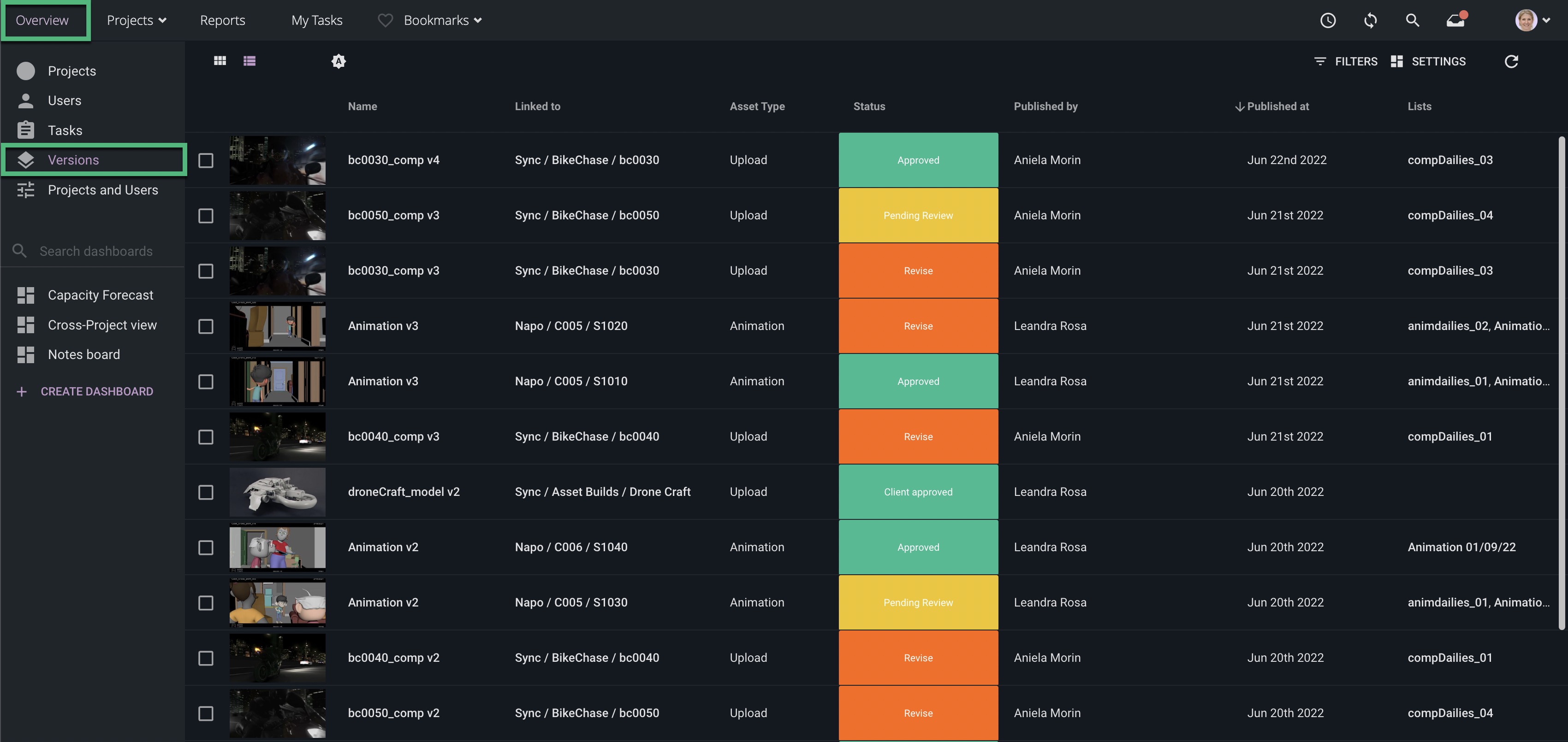 Open the image to enlarge.
The thumbnail of any version can be clicked to play it in your preferred player.
Filters and Settings (upper-right) can be adjusted to customize this dashboard view, however if you choose to save your changes, it will save as a new dashboard. The Versions Overview can not be permanently reconfigured as it is a default view.
As an advanced option, custom version Actions can be configured and then accessed from this page.
Please note: Editing individual version attributes, including status is not available in this view.
Sidebar
The sidebar of any task, object (including folder) or project will give you access to the versions uploaded/published to that element by clicking on the Versions tab.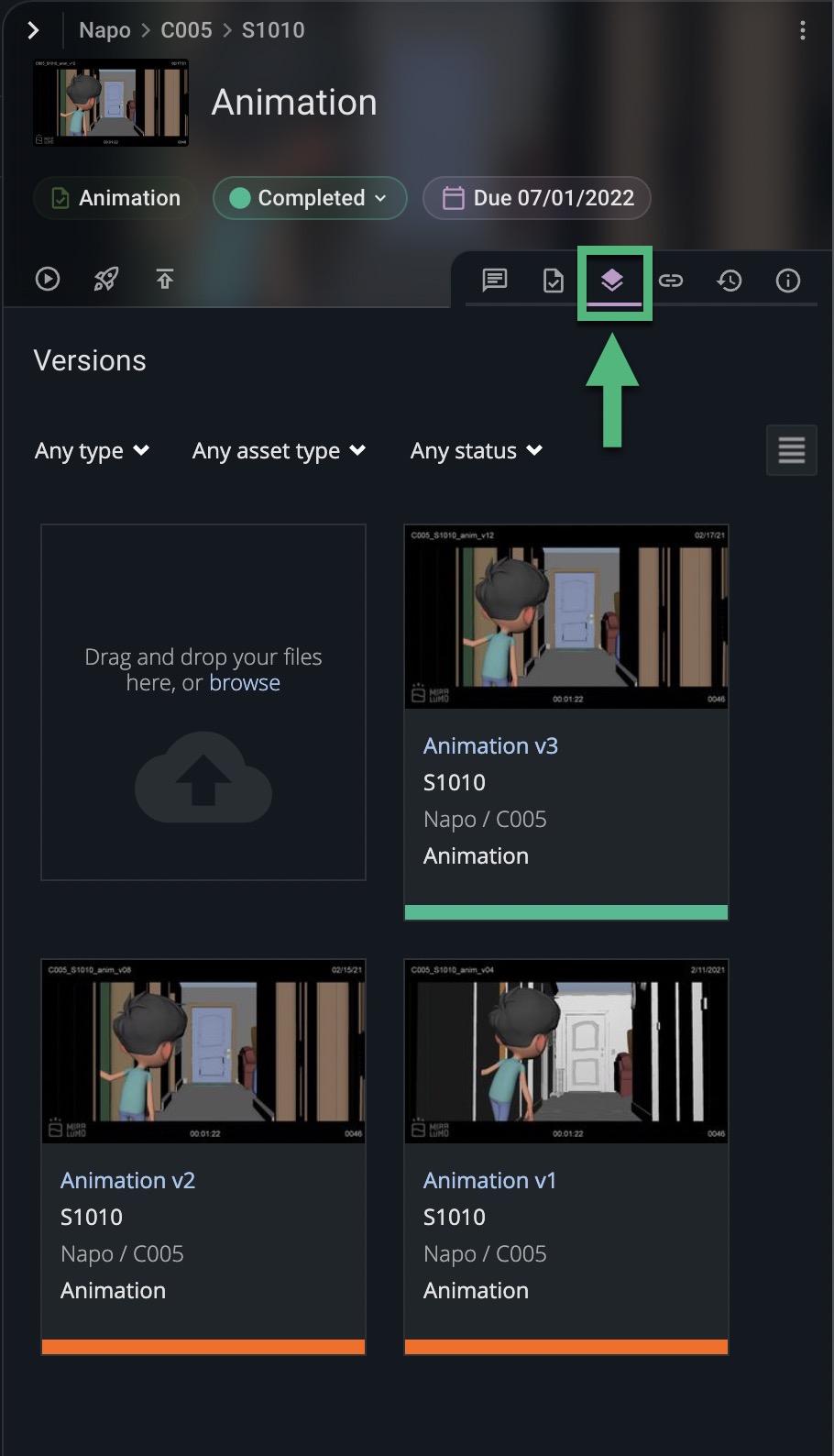 Image: Example of an Animation task's Sidebar Version tab
From there you can view all versions for that element, or filter for what you'd like to see by Type, Asset Type, or Status.
The

menu will give you access to List and Thumbnail views as well as an option to select 'Latest Version' which will only display the latest version linked to any task contained within.
Clicking on the Version name will open another floating sidebar for that Version where you can quickly access all its specific details (including its Notes) via the sidebar tabs.